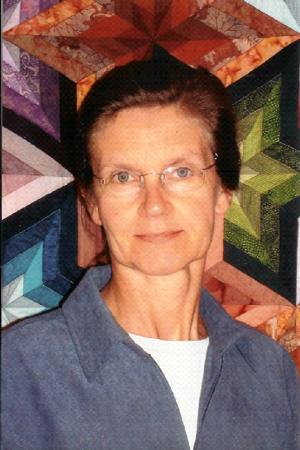 Home: Shenandoah Valley, Virginia
Barbara Cline started creating quilts in her teens. Her first one was a design she made up, with fabrics pieced together to create a woven look. Since then, she has had over 30 years of experience in quilting, teaching classes at a local sewing shop, and creating beautiful quilts and patterns. She also travels teaching to quilt guilds and quilt shows.
Barbara worked at The Clothes Line (now called Patchwork Plus) from 5th grade until she got married and had children. After she stopped working at the fabric store, she was a stay-at-home mother; piecing quilt tops to sell when she had the time. When her last child entered kindergarten, she started working part-time again at The Clothes Line.
Barbara is a national teacher and lecture. She currently teaches classes at Patchwork Plus and loves to design and piece wall hangings and quilts from her home in Shenandoah Valley, Virginia.
Barbara has three books published by C&T Publishing: Star Struck Quilts, Simply Triangles and Diamond Chain Quilts. Visit Barbara's Website for more about her quilts and classes. Or visit The Patchwork Plus where Barbara is a regular teacher.