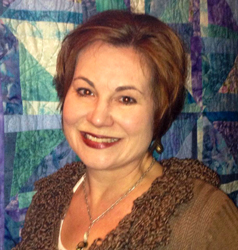 Home: Pepperell, Massachusetts
"Hilarious, down to earth, authentic, and so creative" – actual, unpaid audience member, "Give it a Scrap Slap"
Teaching and lecturing around the country are my favorite parts of this business and I would love to share my motto of "inspired designs, relaxed attitude" with your guild. As a self-taught quilter, it took four years before I realized the importance of a ¼" seam, discovered chain piecing, and found that trimming blocks before sewing them together made all the difference when it came to a flat, somewhat square quilt. As a teacher and lecturer, I am always thrilled when I can bring all this knowledge to people sooner rather than later, and share tricks and tips I've discovered along the way, using my signature style of humor and not taking myself or my quilts too seriously.
Over the years I've seen my design preferences evolve from mainly machine applique to mainly scrappy, but I still like to mix it up with new stuff all the time. My one constant design style is one of "fun over fuss," and I unapologetically preach the gospel of "Perfection is Overrated" through my trunk show lecture of the same name. Who needs matching points fouling up an otherwise cool design, after all?
Since founding EvaPaige Quilt Designs in 2005, I have published over 40 patterns and my work has been featured in Quilter's World, The Quilter, Quiltmaker's 100 Blocks, and Cotton Spice magazines. I was honored to be appointed to the 2014 Quiltmaker magazine "Scrap Squad" along with five other quilters, all of us chosen to remake one particular design per issue in all scraps. Nothing has ever been more right up my alley, and led to my favorite and most popular lecture, "Give it a Scrap Slap." My favorite and most popular class, "Round Robin in Day" pits participants against the clock in a challenging design showdown over the course of 6 hours. It's a concept I haven't seen elsewhere and it always is just a hoot.
At my "Quilting Hottie Haven" blog (www.evapaigequiltdesigns.blogspot.com) and on my EPQD facebook page (www.facebook.com/EvaPaigeQuiltDesigns), I have created several blog events and regular features including "Drop and Give Me Twenty," a month-long sponsored challenge wherein quilters pledge to quilt for at least 20 minutes every day the entire month of February and share their results as we go. My pet charity is Ovarian Cancer Research Fund and each September I run my annual "Teal Mini Swap" fundraiser and swap. It's a way I can honor my mom, who taught me to sew and who lost her battle to ovarian cancer in 2002. Check out what I love and some of my own designs on my Pinterest boards too!
You can find me in all sorts of places on the internet, but my favorite place to be is in front of your guild, sharing my love of quilting and hearing about yours. For more information or to schedule an event for your guild or shop, contact me at evapaigequilts@charter.net.