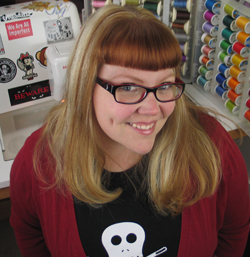 Home: Plainfield, Illinois
I work in the comic book industry by day and am a fiber artist by night. I am fascinated by the intersection of technology and textiles. I create original and contemporary designs for my art quilts. I use electronic components, as well as fusibles, yarns, jewels, sequins, beads, and various other media to embellish my work.
My quilts are all pieced, appliqued, and quilted by machine. My themes and subjects vary, from simple shapes, abstracts, to realistic interpretations of still lifes and portraits. My work is small, often under 6 inches square. My recent work uses LEDs, microprocessors, and other electronic components to make my fiber art and quilts light up.
My work can be found in national magazines, national exhibitions and quilt shows, and on Quilting Arts TV. I offer lectures on eTextiles and a trunk show of hundreds of mini art quilts. I teach on topics from electronics in quilting to heirloom dimensional sewing, to cartooning for quilters.
Visit Cheryl's Websiteand check out her Videos on YouTube.