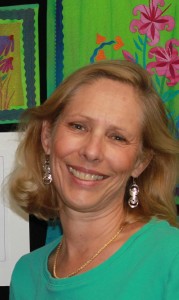 Home: Elgin, Illinios
I made my first quilt when I was in high school. I have been designing and making original quilts ever since.
I find each step of quilt making, from the beginning to the end, a real challenge. Most of my quilts are fused or have fusing in them. My work is machine quilted and nature inspired. Every day I walk in a little woods near my home with my dog George. Much of what I see there appears in my work.
I discovered hand dyeing fabric 20 years ago, and I now work almost exclusively with my own hand dyed cotton and silks that are used in my fused and pieced quilt creations. I love the dye process, and I particularly enjoy seeing the colors emerge from the wet fabric. My hand dyed fabric and original patterns can be purchased on my website at http://www.friestyle.com. Readers can enjoy my weekly updates and tips on my blog at http://www.friestyle.blogspot.com.