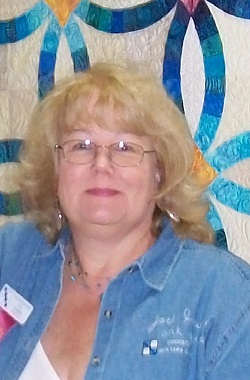 Home: Dover, New Hampshire
When I was 9 years old, I saw a beautiful, knitted bikini in a magazine. My first thought was "I can do that!" I have been creating the impossible and the improbable ever since and luckily most turn out better than that bathing suit!
Currently working on a beer bottle garden edging and an outdoor pantry featuring a repurposed wooden boat, my projects tend to ensnare husband, family and unsuspecting friends.
An art quilter from Dover, NH, I have been quilting since 2007 and I made my first art quilt in 2009. My art quilts have since been shown in local art exhibits, local and regional quilt shows and a local craftsmen outlet.
I have also designed original purse and craft projects and my original luggage tag design was published in Quilts and More, Summer 2011. Recently, I have had two cathedral window projects published in The Quilt Pattern Magazine.
I have given demos on art quilting techniques at our local quilt show. I have also given demonstrations on fabric collage and other art techniques including a 3-D challenge at the Cocheco Quilt Guild Art Bee.
I am a member of the Cocheco Quilt Guild as well as a founding member and leader of the Cocheco Quilter's Guild Art Bee. I have received a many winning ribbons in the annual Cocheco Quilt Guild Challenge Contest and recently I have been designing the annual mystery quilt for the guild.
After majoring in everything from political science to sociology, I eventually received a BA in English from the University of NH (2005).
My greatest achievement is living happily with the same husband for over 30 years despite dragging him into every home and garden project I could dream up. He lives in fear of 5 words, "Honey, I have an idea!" We have 3 extraordinary daughters, and 3 exceptional grandchildren. Truly, the Lord has been good to us and blessed our home.
See more about Jaci on her website and contact her at jaci @ backriverbags.com