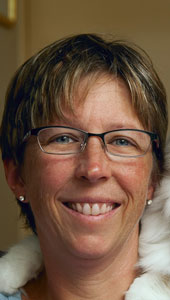 Home: Barrie, Ontario, Canada
I have been quilting for just over ten years and it all started back in 2002 in Yellowknife, NWT. While living in Yellowknife I was very lucky to be able to take many classes from local instructors as well as from instructors the guild brought in from all over Canada and the USA. With a couple of trips to Quilt Canada and some amazing classes I was addicted to the art of quilting.
I began my designing career in Australia when we lived in the Outback. In 2010 I took several on-line classes with Ruth Blanchett, owner of Arbee Designs. My relationship with Arbee Designs developed from this and I have been designing quilt patterns for Ruth ever since. As well as designing for Arbee I also teach at The Academy of Quilting for them. While in Australia I developed my own label, Quilts by Jen.
Upon returning to Canada my company, Quilts By Jen, has developed and grown allowing me to design, write patterns, teach classes and put on trunk shows for local guilds and shops. As well, Quilts by Jen has developed an educational and informative web site for quilters; please visit Jen's Website for more information and booking details.