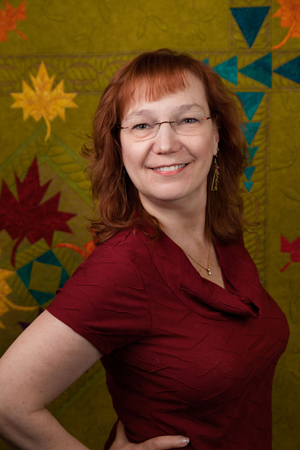 Greenfield, New Hampshire
I am totally addicted to quilting, and enjoy associating with other quilters who are equally addicted. I've been quilting since 1995, teaching since 2004, and judging quilts since 2007.
I have been fortunate that some of my quilts have won awards at shows across the country, including A Quilter's Gathering, Home Machine Quilting Show, Images at the Lowell Quilt Festival, Machine Quilters Exposition, Machine Quilting Today Upper Midwest Show, Maine Quilts, Mid-Atlantic Quilt Festival, MQX Quilt Festivals, National Quilting Association, Quilting With Machines, Quiltweek Lancaster, Quiltweek Paducah, Road to California, Southern New Hampshire Quilt Festival, Vermont Quilt Festival, and World Quilt Show – New England. Several of my quilts were juried into the AQS show in Paducah in 2012, 2014, 2015, and 2016.
As an award-winning quilter, I lecture, give demonstrations, and teach workshops at guilds, quilt shops, and quilt shows nationally. I especially enjoy teaching beginners. When I am not traveling to teach you may find me at my local quilt shop teaching – Nashua Sew and Vac, Nashua, NH.
In 2013, I became a Certified Instructor for Studio 180 Design, Deb Tucker's tool and technique company. The Studio 180 Design certified instruction program provides me with the opportunity to continue Deb Tucker's tradition of excellent instruction combined with fun. Deb's efficient techniques and her accurate tools make it easy to create beautiful quilts without a lot of fuss.
For more information on Studio 180 Design patterns and tools, or for information on workshops, lectures, or judging, I can be reached at Kathie@KathieBeltz.com or www.KathieBeltz.com.