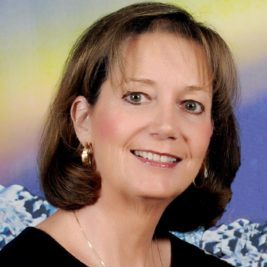 Home: Brighton, Michigan.
An educator for more than 30 years, Kathy brings her love of quilting, teaching and problem solving to the classroom. From lectures to demonstrations, classes, workshops and retreats, Kathy will happily work with you to create the custom experience for you and your students.
Kathy teaches a wide variety of quilting skills. A graduate of Quilt University by Electric Quilt, she can help you navigate their extraordinary block and quilt design software. Kathy teaches classes for beginning quilters, quilters who want to improve their skills or just those who want to tackle a new type of project. Traditional piecing, machine applique (both raw edge AND non-raw edge!!), techniques such as mitering corners, Y seams, borders and binding accents and more.
Kathy is currently in the process of becoming a Quiltworx Certified Instructor — and has made more than 20 of Judy Niemeyer's foundation paper pieced quilts. From beginners projects to king-sized heirloom quilts… Kathy can help you go from start to finish on one of these stunning quilts.
Visit Kathy at BobKat Quilts on Facebook… or at www.bobkatquilts.com. You can reach Kathy at kathy@bobkatquilts.com (810) 337-8458 (810) 33-Quilt
Kathy is ready to talk to you about the perfect guild presentation and workshop or to be featured at your shop or retreat. Kathy is happy to travel throughout the midwest and beyond.