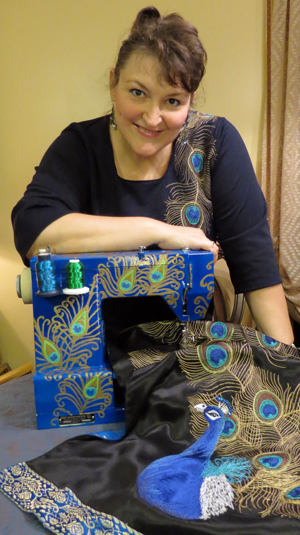 Home: Armstrong, Missouri
Linda Bratten was trained in traditional quilting techniques, but does all her current projects using the sewing machine to piece, applique, and quilt her art. Linda's quilts are "Not like your grandmother's", she loves to mix different mediums and techniques to created unique one of a kind quilts. Best of all she loves to share her knowledge and discoveries with others, and brings her background in family and consumer sciences education to make the learning easy!
Linda began sewing at a young age, but started quilting after the birth of her first son in the late 80's. Linda has taught quilt guild programs in Nebraska, Kansas, and Missouri. She has also taught at the Machine Quilters Showcase sponsored by The International Machine Quilters Association. Recently, she has been an online instructor for Craftsy.
She has been a quilting/sewing teacher, at Zede's Sewing Studio, in Columbia, MO since 2008. Linda has recently self-published a series of workbooks to enhance her Free-Motion Machine Quilting classes, and has created several patterns and machine embroidery designs. She blogs about her sewing adventures at http://lindabcreative.blogspot.com/ which can be found on her website at www.lindabrattencreations.com.
Linda's programs include several Machine Quilting Workshops with the Domestic Machine, Mixed Media Techniques both programs and workshops, Photo Transfer Techniques programs and workshops, and Thread Sketching/Painting Techniques workshops. Along with her presentations, when possible, she will bring a trunk show of her work.