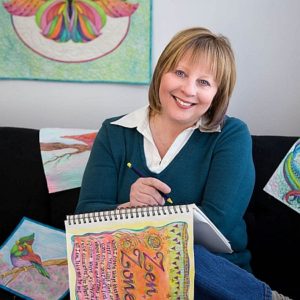 Home: Milford, Pennslvania
My whole life has always revolved around photography, writing, painting, and sewing. These interests have fueled my passion for travel, teaching, and sharing my experiences with people around the world. I have taught throughout the USA, the United Kingdom, Germany, Turkey, and Italy. I believe language is never a barrier in the translation of quilts.
Let the things you see in my book be a springboard for your imagination. Each pattern gives you choices – use commercial fabrics, paint your fabric, or do both!
Linda Poole lives with her husband Ray Williams and Corgi pup Zoie near Milford, Pennsylvania, a beautiful region in the northeastern part of the state. Together they share the passion of discovering the gifts of nature while hiking trails that lead to creeks, brooks, rivers, and lakes. Ray can be found with his fishing pole in hand with Linda by his side clicking away with her camera. Visit Linda's Website.