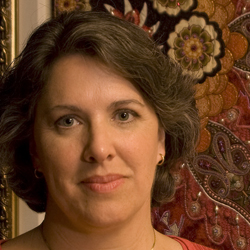 Home: Waunakee, Wisconsin
Lisa Binkley holds a B.S. in Textiles & Design and a Master's in Urban Planning. Formerly a public policy analyst, she established her fiber art studio in 2000. Lisa teaches and exhibits her award-winning artwork nationwide. Her work has been selected for inclusion in major exhibitions including American Quilters' Society exhibitions, International Quilt Association exhibitions, Crafts National, CraftForms, invitational museum exhibitions, and several Wisconsin Artists' Biennia. Lisa and her artwork have been featured on local and national television, in internationally-distributed books and magazines, and in many local publications. Her art is represented in private and corporate collections. Lisa enjoys sharing her passion for fiber and beads through her artwork, classes, and lectures. She lives in Waunakee, Wisconsin with her husband, their two children, and their 90 lb. German Shepherd-Alaskan Malamute dog.
When she's not traveling to teach, Lisa can be found teaching at her local quilt shop Millhouse Quilts. Visit Lisa's website to view her gorgeous creations and learn morea bout her workshops.