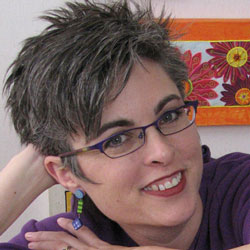 Home: Cary, North Carolina
Author of Art + Quilt: design principles and creativity exercises, Surface Design Sampler Platter instructional DVD, and Bead It Like You Mean It instructional DVD.
Lyric's crusade is to introduce every quilter to their inner artist. She knows that creativity is innate and that art isn't any harder to teach than teaching a child to read. Her lectures are entertaining and enlightening and will help every level and style of quilter bring their work up to the next level. She loves to teach design basics and surface design. Visit Lyric's website for more info about her and her classes.