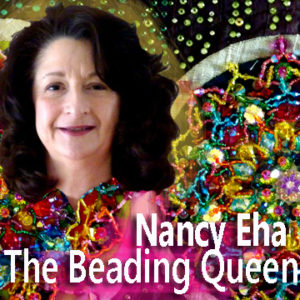 Home: Stillwater, Minnesota
Author of: Bead Creative Art Quilts, and Bead Creative Like Crazy: Beading Inspired by Crazy Quilts. YouTube: The Beading Queen Channel.
Nancy has explored beading on fabric for 20+ years. She has spent countless hours asking "What If?" questions with her chosen materials. Doing so she has developed new and unique beading stitches and techniques that go far beyond the traditional five bead embroidery stitches.
She offers numerous multi-day, 1-day, and ½-day workshops, as well as several lectures/trunk shows. Trained as a teacher, Nancy breaks down each beading technique into small steps and has pre-recorded videos for each workshop so that every student can see her hands as if they had a private tutor.
Visit Nancy's Website or take classes with her online at Quilt University.com