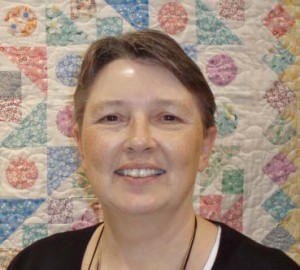 Home: Palm Coast, Florida
Author, teacher, and fabric designer, Nancy has enjoyed making quilts for over 25 years, during which time an impressive range of her beautiful quilts have been featured in over 110 national and international quilt magazines. She has also created over 80 quilt patterns for a variety of fabric manufacturers.
Nancy has authored 12 books since 2002, all have been published by Martingale. Her bestselling books include Appliqué Quilt Revival (2008), Quilt Revival (2006), Treasures for the 30s (2010), Fast, Fusible Flower Quilts (2011), and Kaleidoscope Paper-Piecing (2012). She has designed 14 fabric collections, including five 30s reproduction collections for P&B Textiles. Nancy is working on her next book and fabric collection.
Nancy enjoys combining traditional blocks and updated techniques to create dazzling quilts. Not considering herself a specialist in one particular area, Nancy's favorite techniques include precision machine piecing, quilt design, and machine appliqué. Nancy has taught many workshops nationwide for guilds, shops, and conferences; including International Quilt Festival (Houston), Minnesota Quilter's Conference, Kentucky Getaway, Road to California, A Mountain Quiltfest (Tennessee), and many more. Nancy believes making a quilt should be fun. In her classes, Nancy's goal is for students to have a good time, learn something new, and make a quilt that they will enjoy for many years.
When she's not designing and making quilts, Nancy enjoys traveling to guilds and events around the country, sharing her quilts, teaching her piecing and machine appliqué techniques, and visiting gardens.
Visit Nancy's website for more info and her blog just for fun.