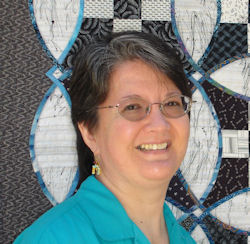 Home: Anderson, California
Scarlett Rose learned to quilt in 1976, started teaching in 1986 and has been quilt judging since the early 1990's. For over 20 years, Scarlett has taught for quilt guilds, shops and conferences throughout the United States. She has taught twice in Japan. While specializing in Celtic designs for appliqué, embroidery, sashiko and crayoning, Scarlett also designs scrap quilts, friendship quilts and foundation pieced quilts that are modern innovations on classic patchwork patterns and traditional symbols. Drawing on her cultural heritage, she combines eastern influences with her Celtic work. Besides her contemporary appliqué and patchwork quilts, Scarlett has also designed unique Wearable Art pieces and Art Quilts.
Since 1998, Scarlett's website at www.ScarlettRose.com, has specialized in Celtic, fantasy, Asian and stained glass books and patterns, with shipping worldwide. Scarlett Rose's Celtic & More currently publishes a full line of Celtic appliqué, Asian inspired bias appliqué, foundation pieced and innovative patchwork patterns and e-patterns, including Celtic machine cross stitch designs and Celtic hand cross stitch charts.
Scarlett teaches at a local quilt shop in Northern California: Blue Iris Quilt Shop, 9348 Deschutes Road, Palo Cedro, CA. Visit Scarlett's Website and she also has a Facebook page at http://www.facebook.com/scarlett.rose.celtic.and.more