Your detailed Profile with a photo is free – just email me [ Click to email or use: MMquilts @ gmail.com ]. Send your bio/teaching blurb, your home town and state, an image that is 250×250 or larger and the appropriate tags for your specialties (i.e. applique, scraps, etc.) and you'll get something that looks like this: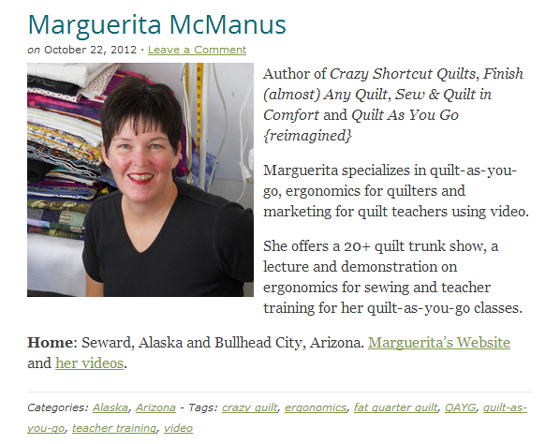 If you don't have a website – consider this the number one way to gain guild attention without having to maintain a website! Your bio will be found by search engines and any guild members using this site.
Would you like to be a "Featured Teacher" on this site? It's only $50 for 6 months. This will get you placement on the sidebar of all pages (except the Calendar, which is full page) and a listing on the Featured Teacher Page. You will also be featured in the next outgoing newsletter to hundreds of guild members who are signed up to receive it. The newsletter has over a 50% open rate – outstanding for any newsletter! It is re-opened and forwarded by guild members/program chairs all over the country.
Additionally, a Featured Teacher listing includes adding your downloadable teaching brochure and contract with your Bio. This makes it very easy for guilds to research you further as they search for teachers and the mission of this site is to make finding teachers easier for guilds.
What Teachers Are Saying:
I have on my calendar that it's almost time to renew my advertisement as a Featured Teacher. Please let me know what steps you need me to take. I have had several inquiries from people through your site, so I know it has worked for me. Teacher Cheryl.
…some of the requests that I have received have come from your site–it's just a great … Teacher S.P.