Your detailed Profile with a photo is free – just email me [ Click to email or use: MMquilts @ gmail.com ]. Send your bio/teaching blurb, your home town and state, an image that is 250×250 or larger and the appropriate tags for your specialties (i.e. applique, scraps, etc.) and you'll get something that looks like this: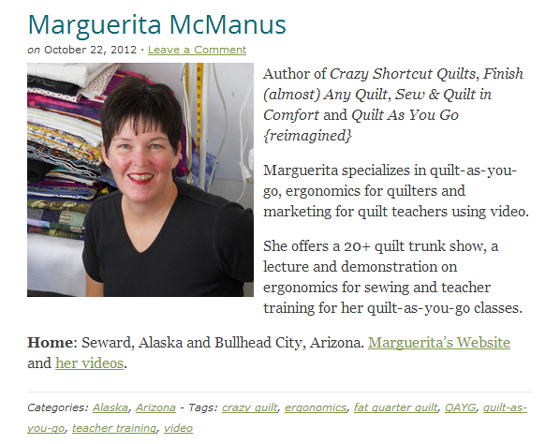 To be featured on the sidebar is $50 for a 6 month display ad and a "Featured Teacher" section in the newsletter that goes out to guild members.
What Teachers Are Saying:
I have on my calendar that it's almost time to renew my advertisement as a Featured Teacher. Please let me know what steps you need me to take. I have had several inquiries from people through your site, so I know it has worked for me. Teacher Cheryl.
…some of the requests that I have received have come from your site–it's just a great … Teacher S.P.