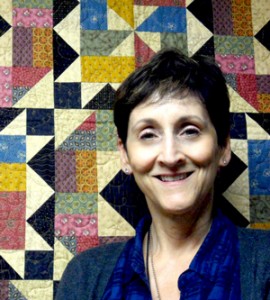 Home: Osage, Iowa
Snuggles Quilts Owner/Designer
I began my pattern design company, Snuggles Quilts, in May of 2003. I have since successfully marketed my patterns to shops around the country from my home based business in Osage, Iowa. I have been quilting for over 25 years and have designed over 100 individual patterns ranging from pillows and table runners to lap quilts.
I have had 27 patterns published in a variety of quilt magazines since 2008; three chosen for the cover. Recently, my patterns have appeared in Fons & Porter's Love of Quilting, McCall's Quilting, Quiltmaker's 100 Blocks and Primitive Quilts & Projects Magazine. I have also had patterns featured in five calendars over the years.
My first book, Country-Fresh Quilts, was published by Martingale & Company in August of 2008. In February of 2011 my second book with
Martingale, Scrap Quilts Go Country, was released. My third book, Blooming Patchwork, was just published by Kansas City Star Quilts (now owned by C & T Publishing) in October of 2014. Quilts from my last two books are currently touring quilt shops around the country for trunk shows.
I have lectured and taught many classes in quilt shops and at guilds around the Mid-West. Most of my classes are based on one of my favorite
techniques, needle-turn hand appliqué. I have also taught classes in wool appliqué and general beginner pattern piecing.
Working at home in my studio has been a dream come true. I love the entire process of developing a pattern. From designing to writing the pattern to constructing a sample, there is no better way to spend a day. Seeing a project emerge from the initial drawings on graph paper to a finished quilt is what keeps my days interesting! I am married to a great guy, Craig with whom I have raised two wonderful children, Alyssa and Mitchell.
They have been a great support system when it comes to my quilting "obsession". Two other members of the family are our cats, Snuggles, the company namesake (who believes she owns every quilt sample I make) and Addie Lou who is often found snoozing on top of a stack of quilts in my studio.
My web site, www.snugglesquilts.com, showcases all of my designs.