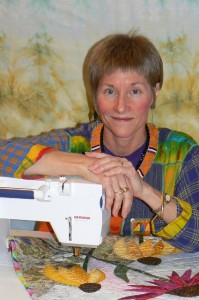 Home: Lake Mills, Wisconsin
As a published, award winning quilt artist and teacher who found her passion for quilting in 1993, Wendy presents at guilds, retreats, conferences, and on-line nationally and internationally. Enthusiastic and empowering, describe Wendy as a teacher. She is recognized for her unabashed free-motion machine quilting, embellishing and picture image machine appliqué style, use of color and contemporary original designs. Her creative passion and energetic teaching style encourages and inspires students and keeps them coming back for more.
Her work and articles appear in many quilt publications. Her own book, Photo Album Quilts, which unfortunately is out of print, features her machine picture image appliqué process. Wendy has appeared on Quilting Arts TV, Sewing with Nancy Zieman and currently is featured in three online courses on Craftsy.com. She is the 19th recipient of the Jewel Pearce Patterson Teacher's Scholarship recognizing quilting teachers awarded by Quilts Inc., Houston, Texas. and curated an exhibition of her work and her students titled "Out on a Limb" which traveled throughout the country.
To contact Wendy directly and to find out more information regarding her workshops, lectures and gallery of quilts, pleasevisit Wendy's website and contact her at wbbquilter @ aol.com