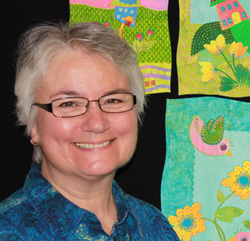 Home: Elgin, Illinois
Laura Wasilowski is both contemporary quilt maker and creator of hand-dyed fabrics and threads. Her pictorial art quilts (created from fused fabrics and hand-embroidered or machine quilted) are collected and exhibited
internationally.
Wasilowski's narrative quilts begin with her unique hand-dyed fabrics and are inspired by stories of family, friends, and home. The whimsical wall pieces often chronicle her life.
Owner of the dye shop, Artfabrik, Laura is also a lecturer, surface designer, quilt instructor, pattern designer, and author of Fusing Fun, Fuse-and-Tell, and her latest book: Fanciful Stitches, Colorful Quilts.
For more information please visit Laura's Website