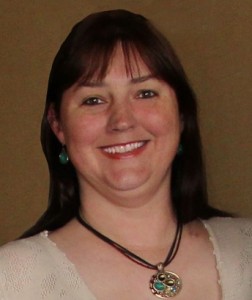 Home: Wien, Missouri, USA
Shelly credits her maternal grandmother, Mildred, for getting her started down the road of quilting obsession, by enrolling her in 4-H sewing classes at the age of 8. When Shelly's Great-Aunt Charlotte presented her with a garbage bag of scraps a few years later, she found her passion there among the fabric pieces.
While the fabric scraps of inspiration have yet to be made into a finished quilt, her aunt's gift in 1972 launched a full-fledged quilting career.
By 1985, she had found her quilting niche in the needle-turn method of hand applique, but that didn't stop her from trying other techniques.
In fact, by 1996 she was teaching classes ranging from hand piecing and applique to quilt design. Those classes would carry over to her shop, Prairie Moon Quilts, where she began to sell her own patterns and kits in 1999.
With the launch of her web site and blog in 2008, Shelly has explored even more opportunities for spreading the quilting word. In 2009, she purchased a longarm quilting machine, and has been doing professional machine quilting for customers and other designers ever since. Her work can be seen in several popular magazines, in shows and other venues, as well as online.
When she's not teaching class, selling her designs, operating the longarm, running her charity "Necktie Social", or designing her own award-winning, nationally exhibited quilts, Shelly can be found spending time with her favorite cowboy and all their many animals on their Missouri ranch. Visit Shelly's Website for more about her.