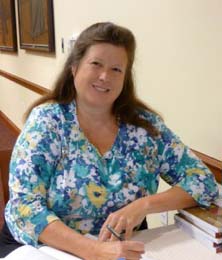 Home: on the road in her RV somewhere near YOU!
Author of "Barn Quilts and the American Quilt Trail Movement." Suzi travels full time speaking to quilt guilds and other groups about barn quilts and the quilt trail movement.
Suzi will take you on a journey along the quilt trail, beginning with the very first barn quilt, which stemmed from Donna Sue Groves and her wish to honor her mother's quilting art. Suzi's hour-long presentation features over one hundred stunning photographs of barn quilts, some of which rival cloth quilts in their intricacy. You will hear stories of some of the individuals who have painted quilt blocks to honor loved ones or their local culture, along with a few humorous anecdotes.
The presentation is both informative and entertaining, as Suzi explores the way in which our quilting heritage takes on new meaning as this movement continues to expand.
Suzi was a featured author during Quilt Week 2013 in Paducah and a lecturer at the National Quilting Association's summer show. Visit Suzi's Website and her blog for more about Suzi and Barn Quilts. Click on "Book signings and Events" to find out when Suzi will be in your area and remember that because she travels year round in her RV, she might be closer to your guild than you think!
Some comments on Suzi's presentation:
The beautiful Barn Quilt photos and their poignant stories were brought to life so eloquently by Suzi. I highly recommend Suzi's Barn Quilt presentation to your guild. Anyone who enjoys quilts will love her presentation; add in the topics of barns both old and new, along with beautiful photos of rural America and you have a program that is sure to please!
Suzi's presentation was well planned — a wonderful slide show of many of the barns she had visited, accompanied by excerpts from her book. Her narrative about how she became interested in barn quilts was entertaining and Suzi shared some very heartwarming stories of the people whose barn quilts she visited.
I was so pleased with your presentation and the responses/feedback — all of them — were so positive! You were a great addition to our event and thank you for participating.
I get a comfy feeling when I think about all the barns you brought with you! Your program was, in a word, outstanding!